Best known for having the tallest freestanding clock tower in all the Dodecanese chain, Halki is an island where you can't get lost. The island is about 10 km long and 3 km across and there's just one populated town, clustered around the harbor area – Emborio.
It's a false impression you won't find anything to do on such a miniature island! Halki (pop. 250) boasts some 15 tavernas and cafes – though you'll be hard pressed to find a traditional Greek coffeehouse. The island has some 6000 goats (that's 200 per square km). There's hardly a place for the sheep! The animals avoid the wild oregano and white marjoram, but locals pick it. Many islanders raise bees for honey and wax. The island boasts 14 varieties of butterflies and 40 types of birds (with 21 others reported in sightings).
The dryness is ideal for various lizards and you may spot some on walls or in rock gardens. Chances are they'll be too quick for you to get a photo.
The post office is upstairs in the terracotta building. It's open Monday through Friday from 7:30 a.m. to 2 p.m. The sole periptero (kiosk) carries only Greek-language newspapers, but you can pick up a few little items supermarkets may not carry.
There is no bank and businesses don't always have change handy. If you need money, be advised you can use the sole ATM (called bank-o-mat). It's in a metal booth right at the harbor.
Note: You can donate coins in the animal welfare collection points at the island's travel offices. This fund provides food for stray cats and dogs.
Chalki Island, this charming island 16 km from Rhodes is a favourite with those seeking tranquillity and a relaxed holiday. The island was prosperous due to sponge diving and fishing, but after the decline of these industries and after the trials of the two wars many of the islanders decided to emigrate to America . As the island has no longer any natural water source, due to contamination by seawater. Tanker from other islands must ship fresh water in. The only livestock that thrive here are goats and sheep roaming the hillsides, eating whatever vegetation they can find.
Nimporio Chalki's main port and settlement and is a quiet and peaceful village.The old captain's mansions around the harbour are bear witness to the islands former wealth, many of them have been restored or under restoration. The Church of Agios Nikolaos has an impressive belltower, the courtyard has a mosaic made from pebbles depicting birds and the tree of life. Remains of windmills stand above the harbour and a clock tower, donated to the island by the islanders who emigrated to America . The nearby beach of Pontamos is probably the best on the island, and is suitable for children.
Chorio this now deserted village was the main settlement of the island, the ruins of a castle once used by the Knights of St. John, overlooks the village.
Moni Agiou Ioannou Prodromou ( St. John the Baptist), it is possible to stay here overnight in one of the monks cells. A large cypress tree shades the attractive courtyard with its geometric designed mosaic. The tranquillity is broken on the 28-29 th of August, when celebrations for St. John the patron of the church start.
History
Halki was once known as a Rhodian Island, as the government of Rhodes was in charge. Halki belonged to one of the municipalities of Ancient Kamiros.
In 1983 UNESCO designated Halki as the Isle of Peace and Friendship. What Halki received in the deal was a bit of recognition. Tourism levels have increased, though many visitors remain day-trippers.
How to get around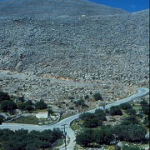 You'd better get used to hiking if you visit this island. You might have to wait a while for the sole taxi and there is no bus. There are no rental possibilities for cars, motorcycles or bicycles.
The sponge blight of the 1920s hurt the population of Halki. Tarpon Springs Boulevard is the name of the paved street donated by concerned Halki expatriates living in Tarpon Springs, Florida, USA. It serves as the main thoroughfare of the island.
Regions to visit
Halki is mountainous and if you'd prefer an accompanied walking tour, go to Laskarina Holidays (ask for Bob). In the lush valley between Emborio and Horio there are groves of olives, wild fig also carob and mastic trees. (In former times, the island was covered with eucalyptus, pine and mulberry trees.)
Horio is the former capital, but is now abandoned. It thrived in the 18th and 19th centuries and is found four km from Emborio. It lies in ruin. Halki's 15th century castle is situated on a classic site there and you can look for the Byzantine frescoes inside the old walls. Fragments of ceramics and obsidian have been found in the area. The castle is a an hour's hike away or you can take the taxi. (There is a card telephone there if you want to contact the taxi for a ride back to civilization.)
St. John's Monastery is a difficult two-1/2-hour walk each way. The monastery is run by a caretaker, as the monks left back in the 1940s. Ask if you'd like to stay in a cell overnight. You can also travel there by taxi.
Sightseeing
The Church Museum (at Ag. Nikolaos) is open only Mondays, 5 p.m. to 6 p.m.
By some cruel twist of fate, right near the bakery is the Halki Fitness Studio. It's an air-conditioned wonder for such a tiny island, offering stationary bicycles, treadmills, rowers, steps, weights, stretching area. Instruction can be given in English. There's a catch – to get in the place, you must buy a membership for a week (minimum). You can get relaxation and sports therapy, a fitness assessment, even a massage. The studio is open Tues. to Sat. from 7 a.m. to 10 a.m. and 6 p.m. to 8 p.m. Massages are only given between 10 a.m. and 5 p.m.
Where to stay
Our first priority upon arrival was to find a place to stay. Hotel Halki, right at the coastline, appeared to be the biggest game in town, so that's where we headed. A former sponge factory, not much to look at, but a room is a room. We headed over and this is how we found out Hotel Halki had closed down years earlier. That Halki has no operating hotel sounds far worse than it is.
There are dozens of colorful villas scattered throughout the harbor area, some with ornate balconies, others hidden behind honeysuckle bushes or fig trees. Rooms on the island are aplenty. We found double accommodations for 20 euro (29 or more euro in high season), with a pleasant avli for evenings and a fridge in the room. Selected rental units also offer kitchens (if you want to pay a little more). We didn't want anything other than a bed and a bathroom.
Rooms are not arranged at the villas, but rather at several travel companies – see below for suggestions. At the expense of these travel companies, some 100 ruined villas and fishermen's houses are being restored to house tourists. Some villas have much on offer, little extras to make your stay more comfortable. You might find anything from ironing boards and irons to box fans to hair dryers – not your usual sparse Greek island digs. The situation in each villa is slightly different, just as each building has its own character.
You can do a paperback book exchange with whatever travel office has arranged your accommodations. All books are in English, as most of the island's visitors come from Britain.
Be advised that, while it may seem appealing to stay a few meters from water's edge, don't do it. The ferry departs at 6:30 a.m. and you'll find your sleep disturbed by the business people delivering boxes to the harbor. As no cafe opens so early in the day, backpackers tend to cluster around waiting for the ferry. There are also caiques to Rhodes (Kamiros Skala) and they start out even earlier.
Water is scarce on Halki. Tourists are requested not to use any candles in their rooms! Drilling for water goes deeper and deeper, the result being that fresh water gets mixed with salty sea water. Water boats come from Rhodes to provide the island with its fresh water supply. Even though several ships arrive weekly in summer, it can happen the tanks run empty. Such is life on Halki! Private houses have cisterns for collecting rain water. When there is no cistern, water is collected in barrels, bins or whatever is available. The island suffers from a distinct shortage of trees, but there is plenty of evidence residents are planting furiously.
Travel offices
Zifos Travel (between the kiosk and the bakery)
Laskarina Holidays (under the clock tower)
Besides arranging for rooms, you can rent an entire villa (though most are booked solid April to October). You can arrange for boat excursions to islets or beaches and buy ferry and caique tickets.
Where to eat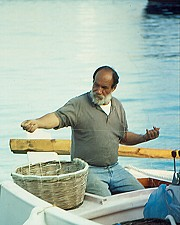 Restaurant suggestions are listed below. For snacks in between, if the well-stocked supermarkets won't suffice, visit Dimitri's popular bakery. He offers up sandwiches and pizza by the slice. Or you can get your choice of pies for only 80 cents (cheese, apple, sausage, ham and cheese or spinach).
Restaurants:
– Black Sea – BS for short, (no joke, this is on their menu cover)
Recommended is a plate of small local shrimp (5.80 euro).
– H Omonoia tou Nouri
Recommended are the Greek salad (a bargain at 3.80 euro) and the catch of the day.
Apart from tourism, fishing is the main occupation of the island. The fish farm at Kania sends all its sea bass to Italy, but local fisherman will gladly sell fish from the boat or at the platia. Tourists with kitchens are eager customers, sampling various types of fish. (Sponge-fishing is, of course, no more.)
Nightlife
You won't find discos/nightclubs, but you have your choice of lively cafes lining the harbor. Here are some recommendations:
– Theodosia Cafe
This is the only pastry shop around. Sample the homemade ice creams or cakes. Ignore the bird if you can. They've taught their parrot to meow, which can be terribly irritating.
– Costas Cafe
Great coffee and friendly service.
– Musses Caffe
People tend to go for the fancy ice cream dishes (12 flavors).
Where to swim
You'll find five beaches on the island, some sandy, other rougher. A few are ideal for snorkeling.
Local Products
If you want souvenirs, go to Ria's. She sells trinkets of all sorts and some clothing items. My Halki t-shirt (100% cotton) cost 8 euro. She has a small selection of handicraft work, mostly tablecloths, starting at 20 euro. Some are made by ladies of the island and other items are made on Crete. Be sure to buy an island map there if you plan to hike and she also has a book in English titled More About Halki by Gabi Pflueger (5 euro).
Look for jars of local thyme honey sold at the supermarkets.
Low season visits
There is no way to visit just for the day in low season (as the caiques don't run), so you'll find yourself staying on the island for three to four days, waiting for a ferry out. Ferries are the only transportation available in low season.
If you're in luck, you might catch an art exhibit. The English painter Muriel Owen, known for her watercolors, offers late fall painting workshops on Halki and participants spend a week or two learning or perfecting their techniques. Artists at all levels of experience take part and the final evening includes an outdoor exhibit (usually at one of the cafes) where many works are for sale.
Facilities for the disabled
The entire harbor area, which is very flat and fairly even, is accessible by wheelchair. This includes getting into almost every restaurant and cafe.
Many villas (rooms), however, are way up on hillsides, with dozens of steps.
Connections with other islands
The ferry goes in one direction to Rhodes Island, in the other to Karpathos Island. There are also caiques to Rhodes (Kamiros Skala), but only in high season (roughly Easter to October).
There is no airport on the island.